Dr. Nasreen Tibrewala
Consultant Anesthetist.
Breach Candy, Parsee General & Masina Hospital,
Intrepid Traveller
Email :
drtibrewala@gmail.com
Jordan- So much more than Petra !
Undeniably it is Petra which has put Jordan on the tourist map.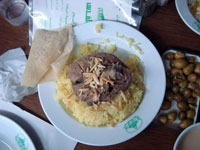 After a 2 kilometer walk (which is in itself a destination) with rock carvings, water channels, soaring cliffs on either side and multiple shades of the red end of the spectrum, you round a corner…and whatever you have heard, seen or expected fades out into insignificance besides the reality of the first glimpse of the Treasury, soaring 40 feet into the sky in an incredible shade of rose. The sheer symmetry and majesty of this 2000 year old structure is like a kick in the solar plexus, stunning your senses. The crowd of humans and animals seemed unreal, and we were easily transported to a bygone era, where the only sounds were of hammer and chisel cutting into unyielding stone, the grunting of exhausted masons and the creaking of carts. There are palaces and walkways and tombs, but the Treasury dominates them all. For the strong hearted, a 2 hour steep climb or a precarious donkey ride takes you to the monastery, which is as awesome as the Treasury, and as grand, but without its colours.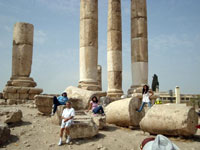 Amman, a cosmopolitan, modern city with undulating roads brings to mind what the old Rome built on seven hills would have been. Limestone homes, olive trees and brown eyed titian haired women abound. From the citadel there is a view of the royal palace smothered by verdure and the city, suspended in a haze, which beckons you to come explore. The amphitheatre, more complete than the Coliseum with acoustics rivaling the Royal Albert Hall. The famous Dead Sea scrolls are revered and kept safe in a museum.
Out of Amman lies Jerash, the best preserved Roman city outside of Italy, complete with temple, amphitheatre, colonnaded street and stadium. There is a most entertaining show of Roman charioteers, soldiers and gladiators, not to be missed. On a nearby hill, allegedly the burial place of Moses, a view of Israel and the Sea of Galilee and Jericho.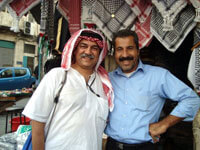 At every turn you are steeped in history and religion and yet there are no overt signs of it being a religious state. In fact, Christianity, Judaism, and Islam are so interwoven in the structures, histories and stories that your faith in humanity is restored, and you begin to believe that maybe there is yet hope for all religions to coexist harmoniously.
Saladdin's Islamic palace interspersed with Moses' holy cross, a Roman city juxtaposed with a Christian church! Ah- Utopia!
The desert of Wadi Rum made famous by the film "Lawrence of Arabia" is made of larger than life rock formations in a barren desert. The colours bombard your senses and the silence deafens. Night falls suddenly and the heavens open up their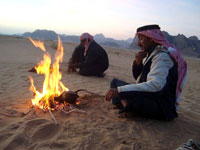 treasury, where the stars shine brighter than the Queen's jewels! A camel ride in the period before dawn, chai made over a wood-fire, and a roller coaster ride down a sand dune is more therapeutic than a million psychotherapy sessions!
From the desert to Aqaba- modern Mediterranean city of the Red Sea, one of the world's best destinations to snorkel and scuba dive. We saw white coral for the first time and felt the feathery touch of tiny fish swimming past us. On the other side of the bay, a more prosperous looking Israel and Egypt, in the distance. No man's land at some point is only 400 meters wide. The river Jordan dammed higher up diverted results in lush vegetation on the Jewish side and rocks and gravel on the Jordanian side. God meant the river to flow and supply both its banks but we humans, in a mad race to self destruct tear asunder his divine works of art.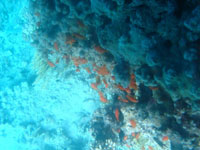 The Dead Sea offers posh resorts, black mud baths and the oily mineral, saline water which really REALLY does not let you sink! A whole industry abounds around Dead Sea products, salts, scrubs, oils, packs, and even edible seaweed!
Shopping in Jordan ranges from the mosaics of Madaba to "antiques" in Amman. For us, the most fascinating were the souks, or local bazaars abounding in spices, nuts, silks and happy shopkeepers! "Tobacco kills" is not a slogan heard of in Jordan- EVERYBODY smokes.
Food is a culinary delight, fluffy falafels, schwarmas, tender and piping hot, spicy kebabs and a variety of salads. Mansaf, a bed of fluffy yellow rice piled high with slices of succulent lamb. But the piece de resistance and what is a national treasure is the baklava- a crisp vermicelli and melt in the mouth pastry stuffed with a gooey mixture of pistachios, almonds and honey. Kanafaa- a cottage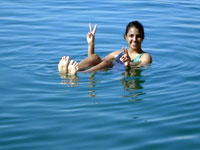 cheese and vermicelli preparation steeped in sugar syrup is also a must-try.
Jordan is well worth a visit. King Abdullah gazes down beatifically at you in various costumes though photographs of his beautiful queen Rania are hard to find. It is a country that though poor, is upwardly mobile! It is pulsating and alive as is evident from the multiple constructions, the constantly improving roads and the bouncing steps of young women clad in skin tight jeans albeit with heads covered. Go to Jordan and bathe yourself in history and culture and be a part of the world that once was, and what could still be- if only we'd allow it!