Dr. Narendra Malhotra – Agra
HOW TO DO THE ROCKIES
Man's quest and desire to scale peakes is as old s mankind, Mountains have a strange feeling of well being on mankind. Mankind usually heads to the mountains for holiday's, relaxation, meditation and for honeymoon. Easy accessibility and improved travel has led a flood of mankind storm towards the Himalayas, Alps and the Rockies.
The Canadian Rockies are a unique blend of mountains, extending from Calgary where the Parieres end right upto Jasper and even further, this 400 km stretch of the trans Canadian highway passes through almost 5 national parks with innumerable lakes and water falls and breath taking scenery. (Picture A)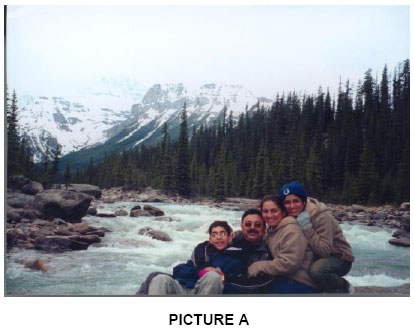 One starts at Calgary a lovely clean cosmopolitan city of Canada, and one starts the Rockies tour either by train, guided tour buses or best by self drive in an 8 seater.
The Rockies train is a nice way to sit and relax with a beer and watch the snow-clad mountains unfold, nature's best scenery around you in glass roofed compartments. These tours are either 2-3 or 7 days with without night halts at the national parks. The trains snakes through one of the best natural beauty in the world. If you call Switzerland and Kashmir heaven, this is ten heavens.
The ultimate way to see the Rockies and to enjoy the beauty is to drive through the national parks. Station yourself in Banff, or canmore or in Jasper or anywhere on the 500 odd km of the Rockies national park and enjoy driving around.
Calgary is where you will land for the Rockies and is connected by flights from Toronto, Montreal, and Vancouver and even to almost all major US cities.
Landing in Calgary airport gives a great holiday feeling the airport has a festive air. Very reasonable car hire companies are at the airport :- Hertz, Avis etc. and in less then an hour of landing you can be mobile with your own van or car (depending on how many you are) or on a bus or train.
Canmore is the first town/village about a 100 km from Calgary where very descent and clean and reasonably priced accommodations are available. If you search internet Holiday resorts you can get 3-5 room bungalows with private open air hot water Jaccuzi's.
The 3 sister mountains towers over canmore town and the Nordic winter Olympics centre is a nice place to spend some time. (Mountain biking) and sking.
Canmore is just 20-30 km away from the entrance to Banff national park.
Rockies national parks are lakes, Snow Mountains, streams, natural rock bridges and waterfalls.
A one time entry fee of 14$ gives you unlimited access to all national parks per 24 hours. If you are staying in Banff or Jasper, it is advisable to buy a week's pass for 80 $ (Canadian).
SEVEN DAYS IN ROCKIES :
Day 1 Canmore : Nordic centre mountain biking and a half day river rafting.
Day 2 : Banff Gondola ride to sulphur mountain and the hike to the top and 2 hours of hot spring bath with snow clad mountains in the background. End the day with window-shopping and actual shopping in Banff streets and savor the food on the roadside café's or at good old Mc Donalds. But try the local cuisines it's the best way to know the country.
Day 3 : Do the lakes in Banff national parks. Lake Louise, Lake Emerald. (Picture B)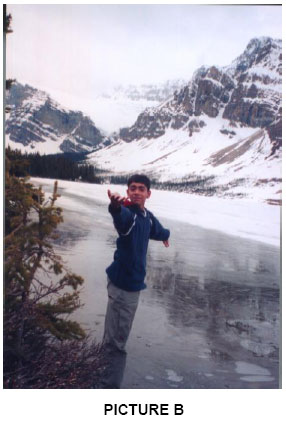 Miniwanke loop these are unbelievable scenery walking around, feeding birds, boating and watching out for wild Bears, Elks, Mountain Goats etc. You see lots of wild life on the roads. End your day in Banff in a café or seeing a movie or shopping for souvenirs.
Day 4, 5 and 6 : Prepare for a longish drive to Jasper with a half a day for the ice fields and glacier. The drive is heavenly and see all the spots on the way. You will see numerous lakes, waterfalls and view points. Stop every where a sign says view point-you won't regret and by the way you are on a holiday enjoy the views, walks, lakes and the glacier. The half frozen lake viewed from a mountain (Picture C) with amazing deep blue color cannot be described in words. Even in the month of June it was frozen, and it was a 2 km trek through the snow-covered roads and paths to come to this amazing lake view. (Picture C)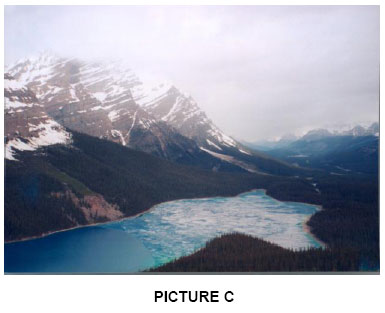 Lunch stop enroute to Jasper is a lovely resort serving hot, good, reasonably priced food of all sorts and ofcourse you can't resist the souvenir shops. If you can resist your appetite and wait the next best place to eat is at the glacier. This is the largest ice field probably in the world the Colombia Ice field. The ice glacier views are amazing, the ride to the glacier in the big snow bus with tyres as big as 10 feet diam., loft is an experience, and of course the hour spent on the glacier is heavenly.
Driving on the highway again you may now encounter wild life-wild black bears, brown bears, Elks, reindeers etc. stop is the word, when you see these wild animals so closely and out come the camera. (Picture D)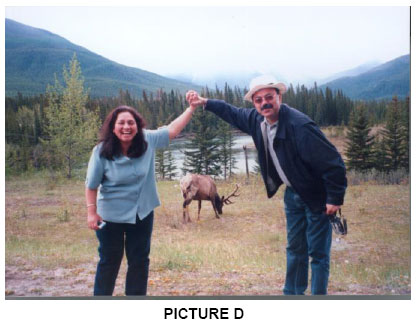 The two nights you plan to spend in Jasper-stay in the resorts next to the river, there are many and the cottages you get for 100 Canadian $ for two nights are lovely and honeymoonly. These are family cottage for a family of five. Explore Jasper and nearby sights, just driving around you will run into lots of wild life.
Day seven is time to go home if your are on a week's holiday. The place will invite you and seduce you to stay Longer and to come back.
Drive back to Calgary all the way will take almost 7-8 hours but its worth it and fly back from Calgary to Toronto and back to Delhi.
Holiday time over and we were back in Delhi's 47ºC after one of the most enjoyable holidays it was like 10 Switzerland in one – The Canadian Rockies.
Points :
Drive through the Rockies
Stay in Smaller towns and village
Book Mountain escape houses and apartments before through internet
Be prepared for sudden weather changes and cold and rain even in summer
Do not miss white river rafting
Walk around all lakes
Stay a night at Jasper
Eat fondue in Jasper
Cook your ours meal
Take a Camera, Video Camera with lots of films