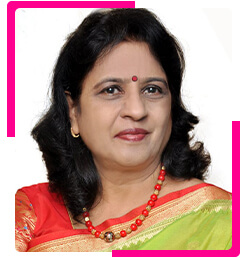 Dr. Madhuri Patel
Secretary General, FOGSI
25th February'2023
Dear FOGSIans,
Warm and personal greetings from FOGSI!
I wish you all a very happy, prosperous and eventful year.
The year 2021-2022 was full of uncertainty and excitement. COVID-19 pandemic drastically changed the Lifestyle and work culture. First time in the history we had to postpone AICOG, Indore from January 2022 to April 2022. It was difficult decision but we had to make it in the interest of our members.
The digital platform bridged the gap of connectivity. The virtual platform enabled us to connect with remote and unexplored areas. With the collective efforts of all the Government agencies and Healthcare workers once again we are able to connect with each other physically.
On 27th June 2021, I got elevated as the Secretary General of our Federation. Addressing the managing committee as the Secretary General for the first time was a special moment for me. All my predecessors have done great work. I sincerely acknowledge them and I will try my best to continue the same. Our priorities will remain to have a good governernce, administrative transparency and democratic accountability. It will be our collective mission to make FOGSI financially sound, approachable and forward looking robust organization.
I always reiterate FOGSI Mission in each MCM that The Federation of Obstetric and Gynecological Societies of India supports and protects the interests of practitioners of Obstetrics and Gynecology in India, FOGSI encourages dissemination of knowledge and education as well as research in the field of Obstetrics and Gynecology in India, FOGSI works to pilot and promote preventive and therapeutic services related to health care of women and children, FOGSI also serves to advocate the cause of reproductive and sexual health and rights, FOGSI considers the reduction of maternal mortality in India as its primary mission.
I sincerely thank Dr. C. N. Purandare, my guide and mentor for all that I have achieved in the organization. I extend my gratitude to all the seniors: Dr. Sanjay Gupte, Dr. Kamal Deshmukh, Dr. P. K. Shah, Dr. Krishnendu Gupta, Dr. Sadhana Desai, Dr. Usha Saraiya, Dr. Rohit Bhatt, Dr. Dilip Dutta, Dr. Hrishikesh D. Pai and Dr. Alpesh Gandhi. I also extend my special thanks to my good friend and President 2021-2022, Dr. Shanta Kumari with whom I enjoyed working in my tenure of first year as a Secretary General, President elect Dr. Jaydeep Tank, my current office bearers especially Dr. Suvarna Khadilkar, Dr. Parikshit Tank and Dr Niranjan Chavan.
Updates from FOGSI office.
Membership:
The membership management system is dynamic. It gets updated throughout the year. We have given our members the ability to independently verify and update their data as demonstrated on the FOGSI website. There are two levels of access: One for the members and another for FOGSI office. If a member has problem in updating his/her data, she/he can contact FOGSI office for the same. they can contact the FOGSI office. Updating member data is very important for E voting.
Election process of FOGSI:
This time, apart from two, we added DarkNext cyber security for pre-election auditing software. Each member was given a unique link.
FOGSI SSS :
The SSS member's nominee receives a fund on the demise of SSS member. This time with the request from the members, we have increased the DFC amount from Rs.100/- to Rs.300/- which will give substantial amount to nominee. We have started QR code for online payments. Members are encouraged to use them for quick payment. "Members who are not SSS members should become member as early as possible".
SMS :
SMS messages are extremely effective to remain in touch with each other. Permission is required from Telecom Regulatory Authority of India before sending bulk SMS. This process of permission may take about 24 to 48 hours.
FOGSI Website:
FOGSI website which can be visited by logging www.fogsi.org. Members will find all the information about FOGSI on the website, however we are always available to assist you.
Social Media :
FOGSI is now live on social media platforms like Facebook, Twitter, YouTube, Linkdin, Instagram, and Google Business, and they are very functional.
FOGSI Premises:
Due to leakage issues in the first and second floor office premises, they are getting repaired. Renovations will be carried out in accordance with the NMC criteria for ICOG PG recognition.
JOGI:
The JOGI team is doing very well. During Covid Pandemic the journal was on electronics format. We have resumed printing the journal issues and members are now sent hard copies as well as E-books of each release. With release of each issue the SMS are being sent to the members with link so they can access the journals immediately.
ICOG:
ICOG is an academic wing of FOGSI. It is doing fantastic work to spread knowledge and train OBGYN doctors. Team ICOG had conducted weekend courses during last year and now from this year we have begun a monthly web series which is gaining popularity amongst members. We wish that more members should participate in these activities.
Last year was challenging but full of excitement and enthusiasm. We could sail through the crisis with shared understanding. I look forward to more constructive possibilities and FOGSI development keeping in alignment with our Vision and Mission.
Dr. Madhuri Patel
Secretary General, FOGSI