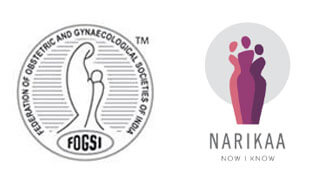 ---
Narikaa is a FOGSI initiative, brought alive in partnership with WayBeyond Media Pvt. Ltd.
It is a safe private space for women to explore, educate themselves and engage with one another to understand their bodies and their choices. The Narikaa platform is a women's health literacy platform (in English & Hindi to start with ) that will provide insight and support to women from all walks of life.
In keeping with the FOGSI mission of reduction of maternal mortality, advocacy around the reproductive and sexual health and rights of women, the Narikaa platform looks at health in a holistic perspective covering the emotional, physical and psychological aspects of a women's evolution from Menarche to Menopause.
Content is custom created by a panel of writers and creators and then approved by the experts at FOGSI. Content is structured around the common issues faced by women revolving around topics namely :- Adolescence, Pregnancy, Infertility, Family Planning, Gynaecological Disorders and Menopause. Easy to understand short videos and concise articles will be available on an easy to navigate platform with a sophisticated search function.
Patient education is an area that is becoming increasingly important both for the patient and for the Doctor. And, as highly respected members of FOGSI (Federation of Obstetric and Gynaecological Societies of India), FOGSI members play a critical role in improving the health and well-being of women.
FOGSI members' contribution and support has paved the way for India's first doctor-intermediated health literacy platform, 'Narikaa – Now I Know'. Beyond its core objective to directly improve the health of over 250 million women in India, this initiative is also committed to provide all its members a platform to engage with their patients.
As part of this initiative, all FOGSI members who sign-up to promote this platform will be provided with a personalized Doctor's profile page on www.narikaa.com that can be your public face to your patients and your community.
Enroll Now
If you are interested, please send a Whatsapp message to 7304588999 or visit https://zfrmz.in/cGmOkE3IBsx6vIqj963e (online form)
WayBeyond Media Pvt. Ltd. is FOGSI's implementation partner and has the mandate from FOGSI to operationalize this project. Over the next few months, WayBeyond Media team will reach out to FOGSI Members to ascertain their interest in the Narikaa digital platform and enlist them if they are interested. It is a quick 2-3 minute enrollment process over a phone call.
FOGSI is proud to be the first Medical Federation to launch a globally accessible website centred around the health of Indian women.