Dr. Usha Krishna
Mifepristone and Antiprogesterone – Its usefulness in Obstetric & Gynaecology
Antiprogesterone compounds can antagonize the biological action of the progesterone or inhibit its synthesis as it has high affinity to progesterone receptors. It sensitises the uterus to prostaglandins and therefore most useful as safe and effective method of medical termination of early pregnancy. Besides, it is used for ripening the cervix prior to first trimester as well as second trimester termination and even prior to induction of labour. It is now shown to be useful and effective postcoital agent for contraception and also as a contraceptive by preventing implantation or by inhibiting ovulation. The drug has high affinity to progesterone receptors and also binds to glucocorticoid receptors and to a lesser extent to androgen receptors. Besides, its action on myometrial and endometrial decidual cells promises its usefulness in management of endometriosis and fibromyoma. The success rate of oral Mifepristone and Misoprostol for first trimester termination is about 95%. Pre treatment by Mifepristone prior to second trimester abortion with prostaglandins reduces the induction abortion interval to about 6 hours. It increases the myometrial responsiveness to prostaglandins and oxytocin and also induces cervical ripening when induction of labour is indicated. Cabrol et al (1985) have used Mifepristone for induction of labour successfully. 54.5% of patients in Frydman's series had onset of labour compared to 18.2% who received placebo. The author has used this drug since about 2 decades for first and second trimester termination as well as induction of labour with great satisfaction. It is most important to use the proper dose and timely use of Misoprostol or appropriate prostaglandins in correct dose and route. In author's experience, the success rate in first trimester has been 95.6% (780 cases) and in second trimester 97%. Pre treatment with Mifepristone reduced the induction abortion interval from 17 hours to 6.4 hours. Home use of Misoprostol has been tried at FPA centres and Larsen & Toubro Health Centre with success rate of 89% and 94% respectively. Sublingual vaginal and oral routes were compared at Larsen &Toubro Health Centre with equal success.
Mifepristone in Leiolyoma: Mifepristone is observed to decrease fibroid size by 49% after 12 weeks of treatment. The decrease in fibroid volume is similar to that achieved with GnRH agonist therapy and Mifepristone did not reduce the bone density or caused hot flushes etc. Mifepristone administered in a daily dose of 25 or 50 mg, is effective in arresting growth and reducing the volume of uterine leiomyomas with marked alleviation of pain. Randomised study was carried out with either 5 or 10 mg of Mifepristone daily for 6 months in an open label study. 19 of 20 subjects taking 5 mg and all 20 subjects taking 10 mg completed all 6 months of the study. Mean uterine volume shrank by 48% (P<001) in the 5 mg group and 49% (P<001) in the 10 mg group – a non significant difference.
Mifepristone in endometriosis: As endometriosis is a common condition with a high prevalence in cases of infertility, its treatment with Mifepristone can be very useful in management of dysmenorrhea , chronic pelvic pain dysparenunia etc. This medical therapy has been shown to be very efficient in reducing pelvic pain as soon as amenorrhea is created and maintained. Regression but not elimination of the endometriotic implants is obtained by medical therapy. Clinical data support the hypothesis that efficacy of medical therapy is largely achieved by preventing cyclic bleeding in the implants. In general, lesions of endometriosis regress by 55% following Mifepristone treatment.
Both these indications need further studies and establishment of proper dosage. Mifepristone against metastatic breast cancer is not satisfactorily effective.
Reports describing Mifepristone treatment for Cushing's syndrome shows amelioration of the undesirable effects of excessive cortisol.
Some studies show objective improvements in 25% of subjects in cases of unrespectable meningiomas.
Although this drug is yet under trial, for some of the above indications, its usefulness in gynecology and obstetrics is well establised.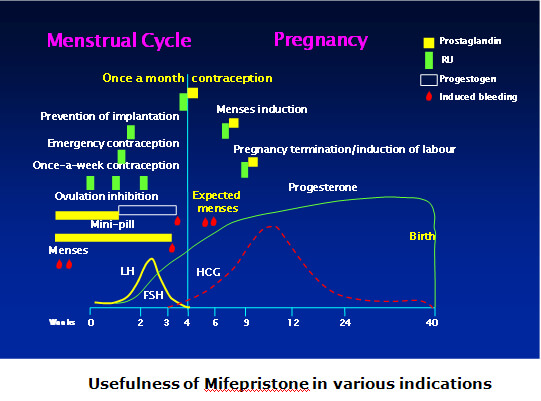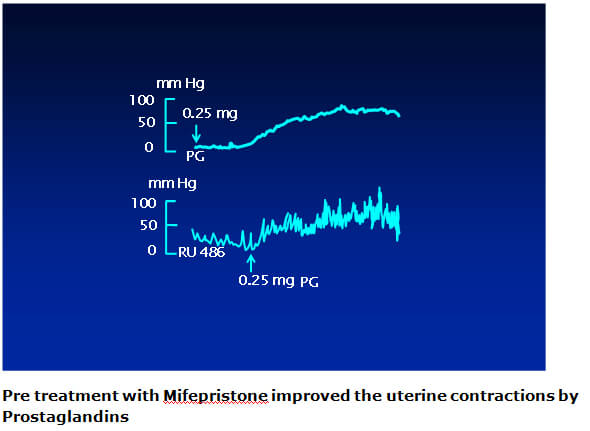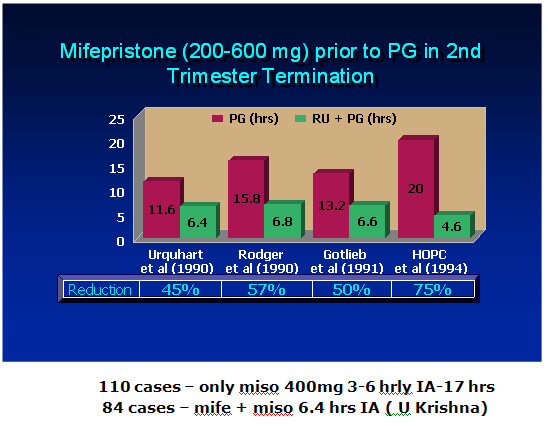 References:
U Krishna, The Journal of obst/gyn of India, Vol 50 No 3, pg 26:34, 2000
Cabrol D, Bouvier d Yvaire M, Hermet E, Lancet 8462, 1619, 1985
Frydmen R, Baton C, Lelaidier C Lancet 337, 488, 1991.
NLM Citation ID: 22465006 (Medline)
Ivo A Brosens, Endometriosis, Current issues in diagnosis and medical management
Samuel S Koide, The Journal of reproductive medicine, volume 43, No 7, July 1998